Germany: Merkel's CDU victorious in Saarland
Comments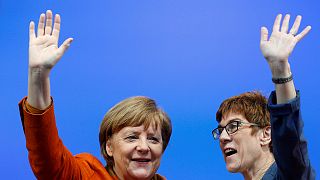 A closely-watched election in the small, western state of Saarland has swung in favour of German Chancellor Angela Merkel. Her CDU candidate, regional Prime Minister Annegret Kramp-Karrenbauer won 40.7 percent of the vote.
"We campaigned here together, Angela Merkel and myself. Side-by-side we campaigned here, both the federal party and us. But we made very clear that we campaigned here for our regional policies. We want to shape our future here," she told reporters.
Like federal Germany, Saarland is currently governed by a 'grand coalition' of Merkel's conservatives and the second-placed SPD Social Democrats.
The SPD came out with 29.6 percent of the vote, meaning the most likely outcome will be a continuation of the current two-party government.
'The Schulz effect'
But, the dip in support for the SPD is a setback for the party's new national leader and former European Parliament President, Martin Schulz.
"We have not reached what we aimed for tonight. But that does not mean that we will not reach our overall goal, which is to change the government of Germany," said Schulz.
He has been a shot-in-the-arm for the centre-left SPD. His promise to tackle inequality is resonating with many voters tired of Merkel.
Despite Saarland having just 800,000 eligible voters, the first of three regional ballots this year was considered a significant opportunity for parties to build – or lose – momentum ahead of the national election on September 24.