SPD nominates Schulz to take on Merkel for German Chancellor
Comments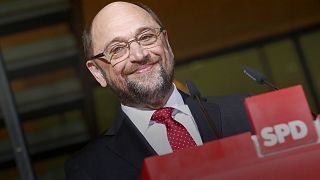 Germany's Social Democrats (SPD) have nominated Martin Schulz as their candidate to run against Angela Merkel to become chancellor, following Sigmar Gabriel's decision to stand aside.
The party leader explained his decision saying the former European Parliament president had "a better chance".
"There is a deep cut going through society, not just in our country but in other countries in Europe as well. European societies are drifting apart. After the presidential election in the United States one may say that society is drifting apart across the world," Martin Schulz said.
The move is seen as a sign that the social democrats are serious about ending their role as a junior partner in Merkel's current right-left coalition after September's election.
The SPD wants to form a coalition with smaller parties on the left.
The party is expected to confirm Schulz as candidate and party leader next weekend.
The current leader Sigmar Gabriel has made a rare attack on Merkel, saying her policies have contributed to the EU's crises of recent years, claiming also that her government's insistence on austerity has brought high unemployment outside Germany.
However Schulz will face an uphill task to beat Merkel, whose conservatives are well ahead of the SPD – at least according to opinion polls.