Driver arrested after speeding into pedestrianised street in Antwerp
Comments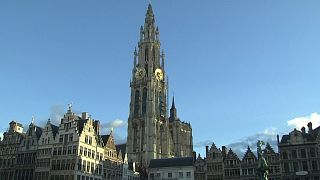 Just a day after the attack in London, Belgian police have arrested a man accused of driving at speed into a pedestrianised street in Antwerp and forcing people to jump out of the way.
No one was injured and the car was later found near the city's port. The driver, a French national of North African origin, was taken into custody.
A non-lethal gun and knives were found in the car, as well as a cannister that bomb disposal experts were checking.
Serge Muyters, the Antwerp police chief, told reporters: "At this time, Antwerp is on high alert, which means places where many people gather or other special places will receive extra protection.
"The military is sending extra personnel to Antwerp, who will be extra visible today."
Reports say soldiers on patrol had attempted to stop the vehicle in the busy De Meir shopping street but it sped off before being tracked to the city's port area.
The incident also comes just a day after Belgium commemorated the first anniversary of terrorist attacks in Brussels that left 32 people dead.