NATO calls for calm as EU leaders slam Erdogan's 'Nazi' jibes
Comments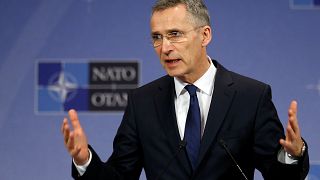 As tensions mount between Turkey and the Netherlands, the head of NATO has appealed for calm and mutual respect.
Both countries are members of the Western military alliance.
Amid the escalating row over the Dutch refusal to allow Turkish ministers to campaign in the Netherlands, Secretary General Jens Stoltenberg reportedly spoke on the phone with Turkey's foreign minister.
"I will encourage all allies to show mutual respect to be calm and have a measured approach to contribute to deescalate the tensions. I think it is important that we now focus on everything that unites us," Stoltenberg told a news briefing in Brussels.
Angela Merkel had already condemned President Erdogan's accusations of "Nazi-style practices" after Turkish rallies were cancelled in Germany.
At a business conference in Munich on Monday she rejected the same rhetoric being used to describe friendly nations such as the Netherlands.
"These comparisons are totally misleading, they belittle the suffering, especially in the case of the Netherlands which suffered so much under the Nazis. This is completely unacceptable and that's why the Netherlands have my full support and solidarity, especially also my Dutch colleague Mark Rutte," Merkel said.
The European Commission also said Turkey should cease what it called "excessive statements and actions that risk further exacerbating the situation".
Spokesman Margaritis Schinas told reporters in Brussels that use of such comparisons was a "shame", because it was a "part of European history that is to be forgotten".
The EU's foreign policy chief Federica Mogherini said it was up to each member state to decide who could hold rallies in their countries, in accordance with relevant international and national law.
In a joint statement with EU Commissioner Johannes Hahn, Mogherini also echoed concerns over the "excessive concentration of powers in one office" contained in the proposed changes to Turkey's constitution.