War of words over Turkey's political campaigning abroad
Comments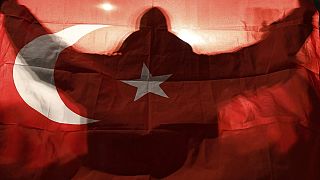 Turkey's foreign minister has addressed expatriates in northern France, one day after he was stopped from entering the Netherlands.
France allowed Mevlut Cavusoglu to attend the rally in Metz aimed at whipping up support for constitutional reforms to expand the powers of the Turkish presidency.
Local French officials gave the go ahead for the rally saying it did not pose a threat to public order.
Fascism
But during the rally Turkey's foreign minister took the opportunity to accuse the Netherlands of being the capital of fascism.
"In the Netherlands, the so-called capital of democracy – and I say this in quotation marks because they are actually the capital of fascism."
Barred
Cavusoglu's remarks follow Saturday night's clashes between hundreds of Turkish supporters and police in Rotterdam, sparked by the Dutch government's decision not to allow Turkish ministers campaign access.
Fatma Betul Sayan Kaya, Turkey's family minister, had arrived in Rotterdam by road on Saturday, but was denied entry to the consulate and taken to the German border by Dutch police.
Foreign Minister Mevlut Cavusoglu tried to fly in but was refused entry.
Dutch anger
The Netherlands' Prime Minister Mark Rutte has demanded an apology from Turkey for likening the Dutch to "Nazi fascists".
"Some Turkish politicians are talking about Nazism and fascism in relationship to The Netherlands. This country, as the Mayor of Rotterdam pointed out yesterday, was bombed during the second World War by the Nazis. It's totally unacceptable to talk in this way. So of course there is absolutely no way excuses can be made, they should make an excuse for what they have done."
The Dutch government said it had been concerned that such rallies would stoke tensions days before the Netherlands' general election.
Turkish President Recep Tayyip Erdogan is however, making political capital out of the rift.
"The Netherlands is nothing like an EU country. It is acting like a banana republic. The world has witnessed how those who had lectured Turkey on human rights, rule of law and democracy for years are far from those values. Now they are trying to find excuses for their bad behaviour," said President Erdogan during a rally in Kocaeli near Istanbul.
Turkey is embroiled in a war of words with several EU countries, including Germany and Austria where Turkish rallies have also been cancelled in the escalating dispute.