Wife of Venezuelan political prisoner Leopoldo Lopez speaks to Euronews
Comments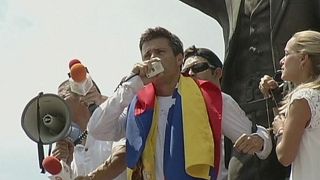 Venezuela's capital Caracas was once one of the world's wealthiest cities. Today the country is deep in
recession. It has the world's highest inflation and there are widespread food shortages.
The government of Nicolas Maduro has postponed both political elections, and a referendum against the president. Officially, to avoid turmoil, but many say the real reason is to keep the left-wing political ideology of Chavism and President Maduro in control.
#VenezuelaNicolasMaduro</a> violates human rights of political prisoner Leopoldo Lopez. Isolated 8days No visitation. <a href="https://twitter.com/amnestyusa">amnestyusaAmnestyNow</a> <a href="https://t.co/QDyImiVMMf">pic.twitter.com/QDyImiVMMf</a></p>&mdash; Michael Welling (WellingMichael) March 3, 2017
Among the opposition leaders which Maduro can not silence is former mayor Leopoldo Lopez. He has been in prison for about three years for inciting violence during mass protests.
Now his wife, Lilian Tintori, travels around the world spreading the word about what's really going on in Venezuela.
1000 days since #Venezuela unjustly jailed oppo ldr leopoldolopez</a>, routinely denied right to see wife,kids,lawyer. Sld be freed immediately <a href="https://t.co/W4R9qW9Bfh">pic.twitter.com/W4R9qW9Bfh</a></p>&mdash; Samantha Power (AmbPower44) November 14, 2016
Euronews reporter, Alberto de Filippis, met with Tintori in Caracas on her way to the infamous prison of Ramo Verde. She travels to the prison every week hoping to visit her companion, but she is routinely prevented from seeing him.
"Leopoldo has been held prisoner for three years, one which was spent alone in a four-storey tower with nobody to talk to," Tintori said. "Every day is worse. He was allowed to read. Not anymore. He had permission to draw and write, now he is not even permitted to write a letter. He has never had private correspondence, another basic right. Leopoldo cannot communicate with his family by phone. Not even a text message. The only inmate in Venezuela without this right. He cannot communicate with his family, his sons."
Hoy hay más razones para protestar. El próximo 18F todos a la calle, firmes, con irreverencia,sin violencia a decir Ya Basta #NoMásDictadurapic.twitter.com/srbxozI12g

— Leopoldo López (@leopoldolopez) February 13, 2017
Lopez has long been a thorn in the side of Maduro's government. He is serving fourteen years. The last few weeks have been particularly harsh, said Tintori.
"Today is 12 days of isolation, and isolation is torture," she explained. "And here at the entrance of the military jail we are still being harassed by the military because we barely get recorded, as this official is recording, record with their cell phones, record any activity that we are doing here at the door. We are simply asking for the right to see Leopoldo."
Alberto de Filippis reported, "Leopoldo Lopez is the number one enemy of the Chavist regime. For some he is a kind of local Nelson Mandela. For many others he is the next president of this country."
#Venezuela Solidarity with political prisoner Leopoldo López. 13 days isolated from family and his lawyer. #HUMANRIGHTSCBCAlerts</a> <a href="https://twitter.com/amnesty">amnestypic.twitter.com/xZIwiW4S8Y

— Michael Welling (@WellingMichael) March 7, 2017
We stand with Leopoldo Lopez and his wife liliantintori</a>. Venezuela needs to act now and release him. <a href="https://t.co/7DjDl0rjg2">https://t.co/7DjDl0rjg2</a></p>&mdash; Rick Scott (FLGovScott) March 7, 2017