We have the numbers to retake Raqqa, say US-backed Syrian militias
Comments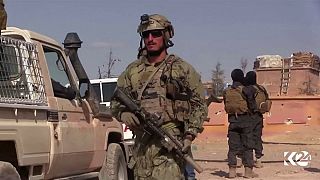 As hundreds more American soldiers join the battle against ISIL militants in Syria, the country's US backed-militias say they are confident they have the numbers to recapture the city of Raqqa.
The militias have said it could be possible to close in on the outskirts of the city in a few weeks, backed up by US marines and Army rangers.
ISIL is on the run in numerous locations, being fought by the Russian-backed Syrian military and rebel groups fighting under the Free Syrian Army banner with Turkish and Jordanian backing.
On Thursday it is reported 23 civilians, including eight children, were killed in airstrikes near Raqqa, an incident the US-led coalition say it is investigating.
The US-backed Syrian Democratic Forces say they have information that ISIL is moving part of its leadership outside of Raqqa and is also digging tunnels.