US begins rolling out missile defence system in South Korea
Comments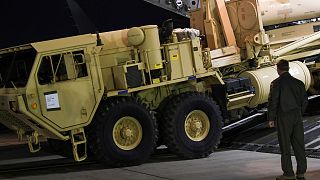 The US says it has begun deploying a controversial missile defence system in South Korea just 24 hours after the North launched four ballistic missiles, breaking UN sanctions.
At the same time North Korea's official news agency claimed that leader Kim Jong-Un personally supervised the test launches by an army unit commissioned with attacking US military bases in Japan.
The moves follow a flurry of phone calls between Washington, Seoul and Tokyo after which Japanese Prime Minister Shinzo Abe revealed to journalists that President Donald Trump had affirmed that the US was with Japan 100 percent.
Pyongyang's latest missiles fell in the sea just off the Japanese coast and it's believed they were fired in response to joint military exercises between the US and South Korea.
The escalating tensions are set to be discussed by the UN Security Council on Wednesday.(March 8)
THAAD
"Terminal High Altitude Area Defence" (THAAD) is an anti-missile system designed to protect against threats from North Korea.
The decision to begin its deployment in South Korea is likely to deepen the brewing conflict between the South and China, which has angrily opposed the THAAD deployment as destroying regional security balance.