Brother-in-law admits murdering French family
Comments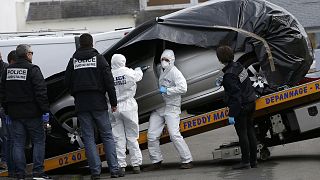 A close relative has reportedly admitted murdering a family-of-four in France in a case that has gripped the nation.
A source says a former brother-in-law of the murdered couple, who are called Troadec, has admitted killing the family in a dispute over an inheritance.
49-year-old Pascal Troadec disappeared a fortnight ago, along with his wife Brigitte, 21-year-old son Sebastien and 18-year-old daughter, Charlotte.
Pascal Troadec's sister and her husband were taken into custody on Sunday. They had already been questioned by police when the investigation began.
ALERTEINFO – Affaire Troadec: deux personnes en garde à vue à Brest https://t.co/9Az7RCw51rpic.twitter.com/x4PcLnTF1T

—

BFMTV

(@BFMTV) 5 mars 2017
Traces of blood
Police searches at the Troadec home in the western French city of Nantes found traces of blood from Sebastien and his parents.
Blood was found on Sebastien's mobile phone and on his mother's watch.
Attempts had been made to clean it up.
No traces of blood from Charlotte were found.
No toothbrushes or hairbrushes were found in the house. The beds had been stripped and there were sheets drying on an indoor rack.
Sebastien's mobile phone was the last to be switched off, according to the local prosecutor.
Murder inquiry
A judicial investigation into murder, abduction and illegal confinement was opened last Monday after the authorities were alerted to the family's disappearance.
Searches ongoing
A widespread search was launched across Brittany for the Troadec family, of whom there is still no trace.
Investigators are combing woods and waterways as well as following up available leads.
#Finistère Forte mobilisation des gendarmes hier. Les recherches sur la disparition de la famille #Troadec se poursuivent aujourd'hui. pic.twitter.com/5IFsKBB48t

— GendarmerieNationale (@Gendarmerie) 3 mars 2017
#Finistère – Enquête #Troadec : 22 gendarmes, 40 élèves-gendarmes et une équipe cynophile participent aux recherches aux côtés de la #Policepic.twitter.com/0FL8fn3rzq

— GendarmerieNationale (@Gendarmerie) 1 mars 2017
Orvault : la famille #Troadec était portée disparue depuis le 16 février dernier https://t.co/t1tSuVKzAGpic.twitter.com/yxijDSx4Ry

— franceinfo (@franceinfo) 6 mars 2017