Netherlands opposes Turkish referendum rally in Rotterdam
Comments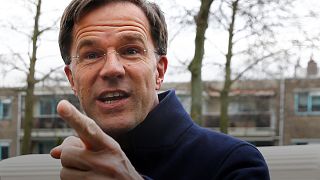 A row is brewing between Ankara and Amsterdam over plans by Turkish authorities to hold a rally in Rotterdam.
Turkey's foreign minister was planning to attend the March 11 rally to persuade the hundreds of thousands of Turks living in the Nertherlands to vote for a new constitution which would hand President Erdogan greater powers.
The Dutch government stated its opposition to such a gathering. "We find this unacceptable, the public sphere of the Netherlands is not the political campaign area of ​​other countries," Prime Minister Mark Rutte wrote in a Facebook post.
According to Dutch newspapers De Telegraaf and De Volksrant, the government is looking into the legality of preventing the rally.
Turkey's Anadolu news agency reported that Turkish Foreign Minister Mevlut Cavusoglu slammed the Dutch government. "They say 'You cannot hold a rally in a public space.' What do you mean we cannot? Where is the democracy or the freedom of speech you claim to have been giving us a lesson on? What about the freedom of assembly?"
It comes as German cities cancelled rallies by Turkish authorities, amid a deepening dispute over the arrest of German-Turkish journalist Deniz Yucel.
President Erdogan accused Germany of aiding terrorism over the affair, saying, "It is because this person hid in the German embassy as a member of the PKK and a German agent for one month. One month. When we told them to hand him over to be tried, they refused."
Yucel who works for Die Welt newspaper was sent to jail last Monday pending trial on charges of terrorism and inciting hatred. Charges which protesters calling for his release in Vienna called 'absurd'.