Experience the Mainz carnival in 360 degrees
Comments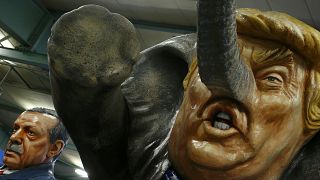 More than 500.000 people celebrated this year's Mainz carnival in Germany. The highlight is the traditional Monday parade, which has been a feature of the festival since 1838.
This year the parade was 9 km long, a new record. 154 floats took part, with President Donald Trump and Brexit the butt of people's jokes.
It is estimated some 150 tons of sweets and other goodies were handed out to party-goers.
Euronews spoke to some revellers taking part in the parade: ''It's great, great. Sensational. The rose Monday parade in Mainz is the place to be….We've been coming here since 2004, always with our friends. It's a true home, Mainz offers a warm welcome."
The authorities in Germany have beefed up security following December's terror attack on a Christmas market in Berlin. Rubbish trucks were deployed around the city to stop other large vehicles from entering the centre.
Fear of something happening didn't seem to deter people. Organisers of the Mainz Carnival say that crowds were as big as ever.
One woman said: "Fear of terror? Well, I grew up in Mainz but live in Berlin now, so the attack really hit close to home, but it's important to defy terror exactly for that reason. It can happen any time, but we can't let our joy of life be taken from us and become intimidated, because that is what the terrorists want to gain."