Millions without clean drinking water as fatal summer floods batter Chile
Comments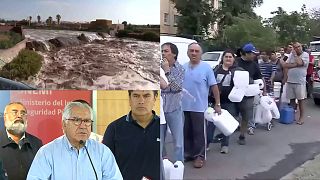 Millions of people are without clean drinking water after heavy rains battered Chile over the weekend.
The incident is unusual as the downpours came during the usually dry summer months, three people are reported dead with at least 19 missing.
The rains caused rivers to burst their banks in the mountainous valleys close to the capital, Santiago.
A number of communities have been isolated by the waters.
Chile: Floods leaves up to 6 million people without water supply in Santiago https://t.co/PHAkk2gFAVpic.twitter.com/jrGw8ehwL1

— Ricardo Nester (@NesterTweets) February 27, 2017
Chile's interior minister is Mario Fernandez:"We have a complex situation regarding the drinkable water supply in 33 communities in Santiago, that's around six million people."
Millions without water in Santiago after floods and landslides cause havoc in Chile https://t.co/dfZ5UjaUd2pic.twitter.com/Jmh06TNATK

— Telegraph News (@TelegraphNews) February 27, 2017
Rescue workers had to clear mud and debris from the roads before residents affected by the waters could evacuate the higher ground to the safety of the lower reaches.
It was the second major flooding to devastate Chile in the past year. Last April, floods smashed into the San Jose de Maipo valley, killing one and closing production at some of the worlds largest copper mines.