Warplanes bomb rebel-held areas around several Syrian cities
Comments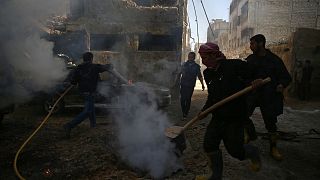 Air strikes have been carried out on rebel-held areas across Syria. In the Damascus suburb of Douma video was posted on line purporting to show the aftermath of a napalm attack.
At least four people have been killed in the bombing raids. The Syrian Observatory of Human Rights says shells and rockets were also used in Deraa and Idlib provinces.
Also on Sunday, according to Syrian state media and monitors, the Syrian government forces seized the town of Tadef from the Islamic State of Iraq and the Levant (ISIL) group on the outskirts of the northern city of Al Bab that is already under the control of Turkish-backed rebels.
Sunday's escalation in violence comes one day after the government-held part of Homes was subjected to multiple suicide attacks.
Meanwhile in Geneva the UN mediator Staffan de Mistura said the violence was a deliberate attempt to wreck the peace talks which are under way.
The UN envoy has been meeting with Syrian opposition groups separately but has called for them to unify in order to facilitate face-to-face talks with the government.