'A disaster': activists challenge Trump's transgender move
Comments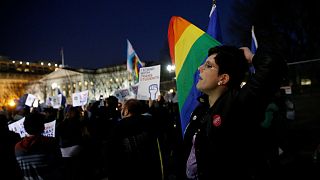 The Trump's administration's reversal of official guidance on transgender rights has brought protests.
Former Olympic gold medallist and reality TV star Caitlyn Jenner challenged the president for ending a directive, issued under Barack Obama, that said schools should allow transgender students to use public toilets of their choice.
"I have a message for President Trump. From, well, one Republican to another," Jenner said via social media. "This is a disaster. And you can still fix it. You made a promise to protect the LGBTQ community. Call me."
Well realDonaldTrump</a>, from one Republican to another, this is a disaster. You made a promise to protect the LGBTQ community. Call me. <a href="https://t.co/XwYe0LNUOq">pic.twitter.com/XwYe0LNUOq</a></p>&mdash; Caitlyn Jenner (Caitlyn_Jenner) February 24, 2017
During the run-up to the US election, Donald Trump said at a rally last July: "As your president, I will do everything in my power to protect our LGBTQ citizens from the violence and oppression of a hateful foreign ideology. Believe me".
The directive issued under Barack Obama threatened to withdraw federal funding from schools if they did not comply with the guidance. It came after North Carolina moved to force transgender people to use public toilets matching their gender at birth.
The Trump administration argues local authorities should be free to decide. Wednesday's reversal of the Obama directive brought protests outside the White House.
Next month the US Supreme Court is due to consider whether in Virginia 17-year-old Gavin Grimm, a female-born student, can be banned from using the boy's toilets. A ruling in the case is due in June.
I am obviously disappointed in the POTUS</a> decision to send the <a href="https://twitter.com/hashtag/transgender?src=hash">#transgender</a> bathroom issue to the states to decide. <a href="https://twitter.com/hashtag/sisterlove?src=hash">#sisterlove</a></p>&mdash; jackie evancho (jackieevancho) February 22, 2017
Jackie Evancho, 16, a singer best known for performing the US national anthem at Donald Trump's inauguration, joined Jenner in asking to discuss the issue with the president. The teenager has a transgender sister.
. realDonaldTrump</a> u gave me the honor 2 sing at your inauguration. Pls give me & my sis the honor 2 meet with u 2 talk <a href="https://twitter.com/hashtag/transgender?src=hash">#transgender</a> rghts ❤</p>&mdash; jackie evancho (jackieevancho) February 23, 2017