Iraqi security forces launch offensive on Mosul airport
Comments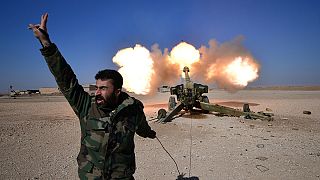 Iraqi security forces have launched an attack on Mosul airport and the nearby al-Ghazlani military camp.
Iraq's Emergency Response Division overlooking Mosul airport. pic.twitter.com/dw8qDcLxaM

— Quentin Sommerville (@sommervillebbc) February 23, 2017
The site has been under the control of ISIL since its militants overran Mosul in June 2014. Taking it back would help the Iraqi army to gain control over southern routes into the city.
Strategic importance
Eastern Mosul was retaken last month, but recapturing the west could prove more difficult. It is densely populated, with narrow streets, and contains some districts seen as pro-ISIL.
Iraqi forces hope to use the airport as a launchpad for its onslaught.
The battle against
ISIL

in Iraq

Military sources say that new tactics and improved coordination have enabled rapid advances against ISIL in Iraq since the start of the year.

About 100,000 Iraqi troops, Kurdish fighters, and Shi'ite militias are involved in the current offensive.

The UN has voiced concerns about the welfare of civilians trapped within Mosul, with reports that they could number up to 650,000. More than 160,000 are said to have already fled their homes in the city.
As Iraqi forces launch an offensive to recapture western #Mosul, protection of displaced civilians must be a top priority – UN</a> agencies. <a href="https://t.co/buHD3aHI2J">pic.twitter.com/buHD3aHI2J</a></p>&mdash; UN Geneva (UNGeneva) February 22, 2017