Iraq starts final push to liberate Mosul from ISIL extremists
Comments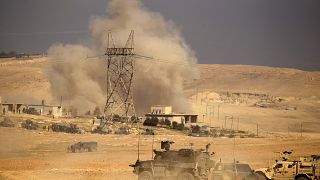 After retaking eastern Mosul, US-backed Iraqi forces have begun the much more difficult battle for the western part of the city, in an all-out offensive to dislodge ISIL from its last major stronghold in the country.
Our main mission is to liberate the people before liberating the land

Iraqi Prime Minister
Just hours into the campaign on Sunday, they had already captured some villages and killed a number of militants, with the strategically important Mosul airport in their sights.
Announcing the operation, Prime Minister Haider al-Abadi asked Iraqi forces to ''respect human rights'' during the combat.
"We call on our brave troops to start the push to liberate the rest of the city, to liberate people from the oppression and terrorism of Daesh," he said, using the Arabic acronym for the so-called Islamic State group.
"Our main mission is to liberate the people before liberating the land."
Federal police forces moving in large numbers to villages south of western Mosul pic.twitter.com/6f5qkUENvI

— Quentin Sommerville (@sommervillebbc) 19 février 2017
Hundreds of thousands of people could be displaced by the offensive which residents were warned about with leaflet drops.
For those trapped, the danger is extreme. In Western Mosul's narrow, winding streets, ISIL fighters have developed a network of passageways and tunnels, enabling them to hide and fight among civilians.
Western Mosul contains the old city centre, with its ancient souks, Grand Mosque and most government administrative buildings.
#Iraq: UN aid agencies preparing for 'all scenarios' as western #Mosul military operations set to begin - https://t.co/4DtLmtRfJd#MosulAid

— UNAMI (@UNIraq) 19 février 2017
It was from the pulpit of the Mosul Grand Mosque that so-called Islamic State leader Abu Bakr al-Baghdadi declared a "caliphate" over parts of Syria and Iraq in 2014. The city — Iraq's second biggest — is the largest urban centre captured by ISIL in both countries and its de facto capital in Iraq.
"Mosul would be a tough fight for any army in the world," the commander of the US-led coalition's forces, Lt. Gen. Stephen Townsend, said in a statement.