Malaysia seeks four North Koreans over Kim Jong-nam murder
Comments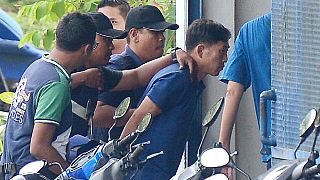 Malaysian police are seeking four more North Korean suspects in connection with the killing of Kim Jong-nam, the estranged half brother of the isolated country's leader.
Officers in Kuala Lumpur where Kim died after poison was apparently sprayed on his face are still appealing for his next-of-kin to come forward.
Deputy Inspector-General of police Noor Rashid Ismail told a news conference on Sunday that they are coordinating with Interpol to track down the four North Koreans who fled Malaysia last Monday, the day that Kim was attacked at the airport.
He would not reveal their destination.
"The four suspects are holding normal passports, not diplomatic passports," he said. "Next plan is to get them. We of course have international cooperation especially with Interpol, bilateral involvement with the country involved, we will go through those avenues to get the people involved."
#KimJongNam murder: #Malaysia police looking for 4 more North Korean suspects https://t.co/WohHpn5NQmpic.twitter.com/8LX1iDjmgd

— The Straits Times (@STcom) 19 février 2017
The deputy police chief named the four as Ri Ji Hyon, Hong Song Hac, O Joong Gil, and Ri Jae Nam. Police are looking for three other people who are not suspects but who they believe could help with their enquiries, one of whom is North Korean.
Police said the cause of death was still not known and that they were waiting for pathology and toxicology tests after conducting a post-mortem.
A fifth North Korean man is already in custody as are an Indonesian woman, a Malaysian man and a woman with a Vietnamese passport.
The mother of the Indonesian women, Siti Aishah, told Reuters on Saturday that her daughter had been duped into believing she was part of a TV show or advertisement.
"She said she wanted to go to Malaysia for filming on a show to make people surprised by spraying perfume on somebody else," said Benah, who goes by one name.
"She was offered a job by someone to become an advertisement model for perfume."
Asked about the theory that the women thought they were playing a prank, Noor Rashid said: "I think there is footage being released … and you can interpret from the footage."
Purge campaign of North Korean leader in spotlight after sudden death of half-brother #KimJongNamhttps://t.co/ejvrec4em8pic.twitter.com/zYiSHOKa10

— The Straits Times (@STcom) 15 février 2017
Kim Jong-nam had spoken out against his family's dynastic control of North Korea.
The South repeated on Sunday its belief that he was assassinated by the regime of his half-brother Kim Jong-un.
with Reuters