Unilever rejects US Kraft Heinz merger deal
Comments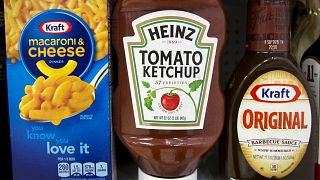 Anglo-Dutch consumer goods giant Unilever said it has rejected a €134 billion merger offer from US food group Kraft Heinz.
Pennsylvania-based Kraft Heinz, whose products include Tomato Ketchup and boxed Macaroni and Cheese, hoped to incorporate Unilever's production of Hellmann's mayonnaise, Dove soap and Ben & Jerry's ice cream in what would have been a potentially lucrative deal for the American company, eager to explore new avenues for growth.
In a statement, Unilever, whose market value exceeds €130 billion, said it saw "no merit" in pursuing a deal with their American rival.
"This fundamentally undervalues Unilever," the company's statement said. "Unilever rejected the proposal as it sees no merit, either financial or strategic, for Unilever's shareholders. Unilever does not see the basis for any further discussions."
Unilever said it received an offer of nearly €47 a share, €28 of which would come in cash and the remainder lodged in stock in the new group. The deal would have represented an 18 percent premium for Unilever.
Kraft Heinz, whose market value is nearly €100 billion, said it submitted a "comprehensive proposal", and although Unilever rejected the offer, the company has said it looks forward to "working to reach [an] agreement on the terms of a transaction".
This has led some analysts to think Kraft Heinz could be open to making a higher bid for Unilever.
If a merger goes ahead, it would represent the third-largest takeover in history and the biggest-ever acquisition of a UK-based company, according to Reuters data.
"There can be no certainty that any further formal proposal will be made to the board of Unilever or that an offer will be made at all or as to the terms of any transaction," said the US company.
Kraft Heinz, itself a product of a 2015 merger between companies Kraft and Heinz, is owned by Warren Buffett's Berkshire Hathaway Inc. and 3G.
There has been speculation the US company is looking to expand and fellow US companies General Mills Inc. and Kellogg Co. are rumoured to be in Kraft Heinz's cross hairs.
Following the announcement that Kraft Heinz had made an offer, Unilever stock skyrocketed more than 10 percent to €43.88 a share.
Kraft Heinz traded at €88 a share, up nearly 8 percent.