Child dies in Turkish car bomb attack
Comments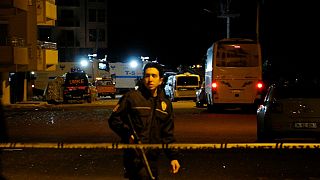 A car bomb has exploded in the garden of a housing complex in the southeastern Turkish town of Viransehir near the border with Syria.
A child, said to be ten years old, has been killed. 17 people were wounded.
BREAKING | Huge explosion in #Viransehir#Turkey. 1 death & 15 wounded reported. Reason of explosion not yet known. pic.twitter.com/I10vANUjaf

— Vocal Europe (@thevocaleurope) February 17, 2017
What happened?
The state-run Anadolu agency reported initial findings that suggest an individual, thought to be aged between 18 and 20, had parked the vehicle loaded with explosives outside the complex in the evening.
The blast shattered windows in several buildings nearby and was felt across the neighbourhood, according to witnesses.
A child dead and 15 injured by large car bomb in southern Turkish town of Viransehir. Target selection hints at PKK. https://t.co/y7UoP3oM2F

— Amarnath Amarasingam (@AmarAmarasingam) February 17, 2017
What they are saying
Justice Minister Bekir Bozdag on Twitter called it a terrorist attack saying it targeted judges, prosecutors and clerks.
There was no immediate claim of responsibility.
What they are saying
"A terror attack was carried out as the car bomb was remotely detonated. The housing complex has been largely destroyed," – Sanliurfa governor Gungor Azim Tuna.
Has anyone admitted being behind the attack?
There were no immediate claims of responsibility.
Justice Minister Bekir Bozdag, posting on Twitter, called it a terrrorist attack and said it targeted judges, prosecutors and clerks.
Who are the

PKK

?
The group launched a separatist insurgency in 1984 in which more than 40,000 people have been killed.
The conflict flared up again in July 2015 after the collapse of a two-year-old ceasefire.
The PKK is designated a terrorist organisation by Turkey, the US and EU.
Leftist and Islamist groups have also carried out bomb attacks across Turkez in the past, with ISIL blamed for some recent attacks.
The last attack was in early January. An offshoot of the PKK clashed with police and detonated a car bomb outside the courthouse in the Aegean city of Izmir, killing a police officer and a court employee.