Former Italian rail bosses convicted over 2009 disaster
Comments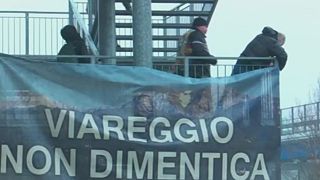 Mauro Moretti, the former head of Italian railways, has been sentenced to seven years in jail over one of the country's worst rail disasters.
Moretti was among a string of executives, including Michele Mario Elia, convicted over the derailment and explosion of a freight train carrying liquid petroleum gas through the Tuscan town of Viareggio in 2009. Neither were in court to hear the verdict
Relatives of the victims applauded when the sentence was read out. T-shirts with images of the dead were placed on empty chairs in the courtroom.
"You cannot imagine that in 2009, and still today, because safety standards have not changed, that you are risking your life being at home," said president Committee "Il mondo che vorrei" (The world I dream of), Marco Piagentini.
Thirty-two people were killed and dozens injured when the train jumped the rails before ploughing into homes in Viareggio on June 29, 2009. Some of the carriages carrying liquid petroleum gas then exploded.
The blast was so powerful it brought down two small blocks of flats, where many of the victims lived.