Austria's President Van der Bellen sworn in, decrying populism
Comments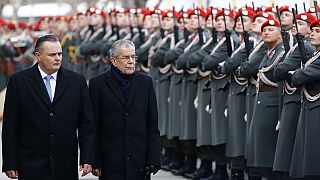 The new Austrian President Alexander Van der Bellen has been sworn in for a six-year term.
It follows the re-run of the election in December which was ordered over irregularities in the first count.
The former leader of the Green Party defeated the far-right candidate Norbert Hofer in the vote for the largely ceremonial post.
At the ceremony in Vienna he said he would work for all Austrians but rejected the ideas behind the populist wave that's swept Britain and other Western democracies.
"The danger, the biggest danger I see is, that we get seduced by easy answers, and shift towards nationalism and provincialism. This cannot be in the interest foremost of Austria, as a very small state compared to the entire world. Let us not be seduced," Alexander Van der Bellen told the audience, to applause.
Austria's centrist coalition is in a fragile state. The Chancellor, Christian Kern, has outlined a government action plan but coalition parties can't agree on priorities.
Van der Bellen has warned against a potential collapse – that would trigger a snap election which polls indicate the far-right Freedom Party could win, despite its presidential defeat.