Trump dumps the TPP trade pact as fears grow for the future of NAFTA
Comments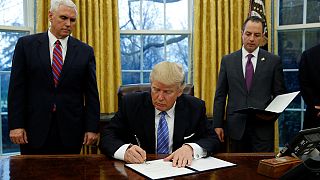 In a move seen as distancing America from its Asian allies, Donald Trump has formally withdrawn the United States from the 12-nation Trans-Pacific Partnership on Monday.
Fulfilling a campaign pledge, the new president signed an executive order on Monday pulling the US out of the trade deal, a key pillar of Barack Obama's Asia policy.
"We are going to have trade, but we're going to have one on one. And if somebody misbehaves, we'll send them a letter of termination. 30 days and they will either straighten it out or we're gone," Trump threatened.
Trumps scrapping of the TPP trade deal has increased speculation over the future of the North American Free Trade Agreement (NAFTA).
In Mexico, president Pena Nieto underlined the importance of open dialogue with the new administration in Washington.
"Neither confrontation nor submission. Dialogue and negotiation are the solution," Pena Nieto said.
Trump, who has threatened to impose tariffs on American firms which move to Mexico, has vowed to renegotiate NAFTA between Mexico, the United States and Canada, insisting he will take his country out of the trade pact if no ''fair deal'' is forthcoming.