Mike Pompeo is sworn in as CIA chief
Comments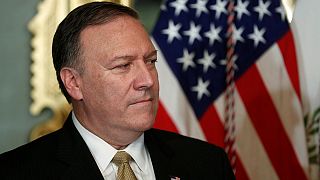 President Donald Trump has had another of his nominees approved by a Senate committee.
Former Exxon Mobil Corp Chairman Rex Tillerson has narrowly been backed as secretary of state.
Tillerson only just got through after late support from Senator Marco Rubio who backed down over his concerns regarding Tillerson and human rights. Tillerson must still clear a full Senate vote in order to join the administration.
Rubio's change of mind drew criticism from Democrats. When he later explained his vote to reporters after the hearing, a heckler sidled up beside him with a teasing prop: a model of a spine.
Rubio says he hopes Tillerson is best Secretary of State of all time. Also someone is holding a spine prop behind him pic.twitter.com/lDI6XY56e1

— Burgess Everett (@burgessev) January 23, 2017
Mike Pompeo has now been officially sworn in as CIA chief. He was early confirmed by the Senate. He now holds the job despite some lawmaker anxiety that he might expand surveillance or allow the use of so-called "Enhanced Interrogation Techniques", widely considered torture.
Congratulations to our newest Director of the CIA, Mike Pompeo! pic.twitter.com/gtCBQURsak

—

GOP

(@GOP) January 24, 2017
Although Democrats are powerless to stop any nominees on their own they have sought to use the confirmation process as a showcase for what they call the extreme positions of the prospective Trump cabinet.