Mayhem in Turkish parliament after MP handcuffs herself to rostrum
Comments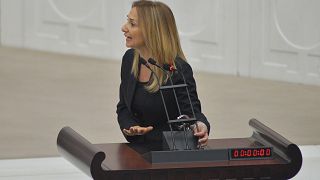 An MP has handcuffed herself to the rostrum in the Turkish parliament, in a protest over constitutional reforms.
The action sparked fighting, with some MPs injured in the general mayhem that followed.
The reform package being debated would give President Recep Tayyip Erdogan more executive powers.
Supporters say the presidency needs to be strengthened in a time of mounting crisis in Turkey, but critics say it is too much power in the hands of one person.
A final vote on the reforms is expected this weekend and if passed a national referendum would be held.