Disabled refugees an 'afterthought' in Greece, says NGO
Comments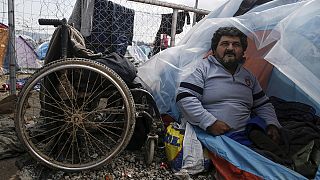 Disabled refugees and migrants in Greece are struggling to get access to toilets, showers, shelter and medical care, it's been claimed.
Human Rights Watch (HRW) say disabled people are slipping under the radar but even those identified are not getting inadequate care.
It comes after NGOs claimed some refugees were being left to freeze to death on camps on the Greek islands:, in part because EU countries have been slow and reluctant to relocate those considered worthy of asylum.
HRW said there were around 62,700 refugees and migrants 'bottle-necked' in Greece, after a EU-Turkey deal saw its northern border shut off in 2016.
"People with disabilities are being overlooked in getting basic services, even though they are among the refugees and migrants most at-risk," said Shantha Rau Barriga, disability rights director at HRW. "Greek authorities, the EU, the UN and aid organisations should make sure that people with disabilities are no longer an afterthought.
"The dire situation for asylum seekers and migrants with disabilities in Greece is a wake-up call for the UN and the EU to start taking the issue more seriously."
HRW said outdoor taps and showers at some camps were not accessible to those wheelchair-bound. As a consequence, it added, one elderly woman had not been able to have a shower for more than a month.
The NGO said there was also a gap in terms of mental health services, adding it had witnessed children, women and men crying uncontrollably or appearing agitated or distressed.
Access to more basic healthcare is also difficult, adds HRW, saying five asylum seekers claimed their disabled family members had to wait for more than a month to see a doctor.
It comes as the Greek Asylum Service said the relocation of approved refugees out of the country remained slow.
It said there were 9,000 refugees waiting to be relocated to elsewhere in the EU, but that the response had been slow. It said Poland and Hungary had refused to accept any refugee transfers from Greece.
The European Commission announced a scheme in September 2015 to relocate 160,000 refugees from the countries worst-hit by the migrant crisis. It included pledges to redistribute around 66,000 refugees from Greece, but, nearly 18 months on, just 7,800 have been moved.