'Exorcist' author William Peter Blatty dies
Comments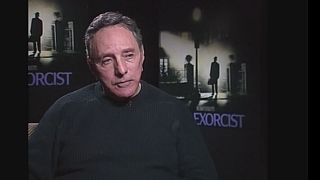 The novelist and filmmaker who wrote "The Exorcist", William Peter Blatty, has died at the age of 89 in Maryland.
His widow said he'd been suffering from a form of blood cancer.
His novel "The Exorcist", published in 1971, was followed two years later by the hugely successful horror movie – directed by William Friedkin – which is considered a classic.
Blatty wrote the screenplay for the story of a girl possessed by a satanic force.
William Peter Blatty narrates THEEXORCIST, unabridged audiobook https://t.co/CgYKAXYYU1

Photo: Jason Miller, Blatty & Ellen Burstyn. pic.twitter.com/Sl2WG0nPCl

— Eyes On Cinema (@RealEOC) January 14, 2017
William Peter Blatty, author and screenwriter of "The Exorcist," has died https://t.co/F3×5Tq9n90pic.twitter.com/dldYoLLtb1

— Huffington Post (@HuffingtonPost) January 13, 2017