'Peace deal for Cyprus is possible' says UN at unity talks
Comments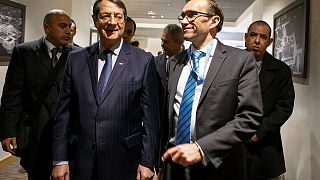 A peace deal in Cyprus is difficult but possible – that was the message from a senior UN official as the leaders of the ethnically divided island arrived for day two of talks in Geneva.
Power sharing, ties with the EU and economic matters are on the agenda.
Speaking from their respective capitals, Greek and Turkish premiers were supportive.
"Ultimately a solution can only be in the interests of Greek and Turkish Cypriots, in other words, a solution that ultimately will be viable, functional and will remove fear from the people of Cyprus," said Greek Prime Minister Alexis Tsipras
Turkish Prime Minister Binali Yildirim warned that a guaranteed fair and equal governance system was a priority.
"Merely mutual trust between communities is not enough. Everything has to be insured. We want that negotiations should proceed in order to provide a fair and permanent peace."
Hundreds of Cypriots, #unitedbyhope, braved the cold tonight to gather at the historic Ledra Palace Hotel in support of the #CyprusTalks. pic.twitter.com/V3mAyq4SjU

— UN Cyprus (@UN_CYPRUS) January 10, 2017
The talks are set to take on an international dimension on Thursday with the arrival of the the leaders from Britain, Greece and Turkey who hope to discuss post-reconciliation security arrangements.
Cyprus has been split into a breakaway Turkish-speaking north and a Greek-speaking south since a Turkish invasion in 1974.
Only Turkey recognises a Turkish Cypriot declaration of independence.