Beijing to set up police squad to combat smog
Comments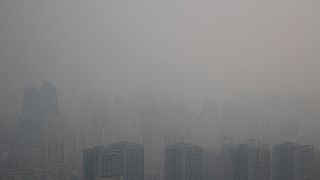 Beijing is to set up a new police division to crack down on activities harming the environment.
It comes amid a period of heavy smog in the Chinese capital and other regions in the country.
State media say the government plans to phase out hundreds of thousands of high-polluting vehicles, and close hundreds of factories as well as the city's only coal-fired power plant.
Beijing's deputy Communist Party chief and acting mayor Cai Qi said the environmental police force would tackle illegal practices – including open air barbecues and rubbish incineration where standards were not met.
"Through these measures, we plan to cut coal consumption by 30 percent year on year, to less than seven million tons," the acting mayor told a media briefing.
On Friday the authorities in many Chinese cities including Beijing extended an orange alert – the second-highest level – for heavy air pollution.
Schools and other institutions have been ordered to stop outdoor activities.