ALpine skiing: Worley strengthens grip on Giant Slalom standings with Maribor win
Comments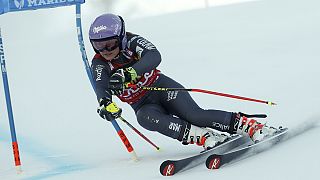 Tessa Worley claimed a third World Cup giant slalom victory of the season on Saturday after beating the field in Maribor Slovenia.
Worley was trailing current world cup leader champion Mikaela Shiffrin after the first run but produced a blistering second leg to celebrate her 11th career GS win.
She is now the most successful French woman in the discipline, overtaking Carole Merle on 10.
Worley also leads the discipline standings 85 points clear of Shiffrin.
Sofia Goggia crossed over for second place at 0.16 seconds.
The Italian continued her standout season with her seventh podium finish of the campaign.
Prior to this season the 24-year-old had never registered a top three finish.
Defending overall world cup champion Lara Gut was third while first run leader Shiffrin, who had beaten Worley to victory in the previous two giant slalom races, looked set for another win at the final split time but she eventually finished 0.42 off the pace and in fourth.
Slovenian Tina Maze bid an emotional farewell to the sport on home snow in her final race after a glittering 18-year career.
The two-time Olympic and four-time world champion stopped twice down the course to say her farewells and crossed the finish line on foot much to the delight of the adoring crowd.