Snow storms strike much of central and eastern Europe
Comments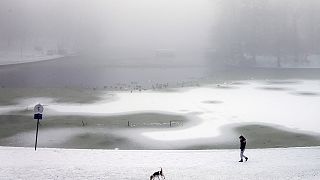 Severe snow storms and strong winds have caused chaos across much of central and eastern Europe.
If you are experiencing the winter weather please share your pictures on Facebook or Twitter
Transport has been disrupted and power lines brought down in several regions within the Czech Republic, Austria and Poland.
The entire Czech Republic is reportedly covered with up to half a metre of snow and counting. The country is on an orange alert until at least Thursday evening, meaning snow drifts and severe blizzards are expected. Transport has become treacherous with several roads and train lines closed. Freight lorries are also stuck in hilly areas especially in East Bohemia.
Parts of northern Hungary have been put on a yellow alert and the river Tsza froze after the sudden drop in temperature.
In Poland, fierce winds downed power lines leaving 16000 households without electricity. Forecasters warned that as much as half a metre of snow may fall in areas close to mountains and that arctic air could plunge temperatures to as low as -17 degrees celsius.
The wintry weather is expected to last until the weekend. Keep up with the latest weather forecasts where you are here