Convicted murderer Charles Manson is taken to hospital
Comments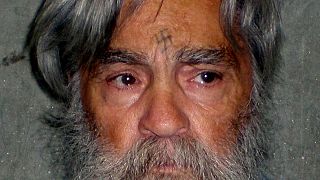 Convicted murderer Charles Manson has been taken from a California prison to hospital. He is said to be seriously ill but no further details have been released.
Manson is currently serving a life sentence.
In the 1960s the charismatic cult leader formed a group of runaways calling them the "Manson Family" . Manson is said to have directed some of his followers, mainly females, to murder seven people including the Hollywood actress Sharon Tate. She was heavily pregnant and the wife of film director Roman Polanski.
#RomanPolanski & #SharonTate at a celebrity event during the Cannes Film Festival 1968 pic.twitter.com/U2Dx8Cnl5V

— Eternal Sharon Tate (@EtrnlSharonTate) December 30, 2016
Prosecuters said it was part of a plan to incite a race war.
Manson was originally sentenced to death but was spared execution and his sentence converted to life in prison after the California Supreme Court declared the death penalty unconstitutional in that state.