Turkey vows to defy terrorists as hunt for nightclub gunman continues
Comments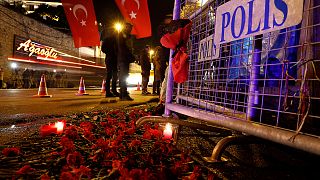 A massive security operation is underway in Turkey as police hunt for the gunman who opened fire on New Year revellers in an Istanbul nightclub.
The attacker killed at least 39 people, as many as 25 of them are now thought to have been foreigners. A US and a Russian national are the latested to be confirmed dead. Other victims have been identified as coming from Israel, France, Tunisia Lebanon, Libya and Saudi Arabia
I have a bad news from Turkey. We have lost two Indian nationals in the Istanbul attack. Indian Ambassador is on way to Istanbul. /1

— Sushma Swaraj (@SushmaSwaraj) January 1, 2017
The attacker left his gun before "taking advantage of the chaos" and fleeing the scene, Turkey's Prime Minister Binali Yildirim said.
The premier has been visiting a hospital where some of the sixty or more people injured in the attack are being treated.
In a later statement Yildirim said that some details have begun to emerge and that police and intelligence officers are working together to apprehend the assailant and to discover who was responsible.
"Terror," he said, "cannot intimidate us. We will intimidate terror. We will continue to fight against it."
New video of the attacker has been released as he entered the popular Reina nightclub. So far no group has claimed responsibility although suspicion had fallen on ISIL militants.
Some in the club jumped into the waters of the Bosphorus to try to escape the carnage and were rescued by police. The club lies on the European side of the Bosphorus Strait, which splits Istanbul in two.
There has been some confusion over the number of gunman with other footage showing an individual in lighter clothing but police believe it was the same man.
The attack has been widely condemned:
Statement on the terrorist attack in Istanbul, Turkey: pic.twitter.com/jTe2lMbA1c

— The White House (@WhiteHouse) January 1, 2017
Canada strongly condemns today's terrorist attack in Istanbul. We mourn with Turkey, and offer our condolences to the victims' families.

— Justin Trudeau (@JustinTrudeau) January 1, 2017