Gülen denies involvement in murder of Russian envoy to Turkey
Comments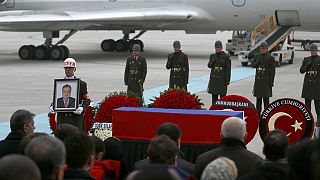 Exiled Turkish cleric Fethullah Gülen has denied any involvement in the killing of the Russian ambassador in Ankara, after the Turkish president said the assassin was one of his followers.
Recep Tayyip Erdogan said on Wednesday there was "no doubt" the policeman who carried out the attack had ties to Gülen, his archenemy.
"He was a member of the Fethullah Gülen Movement, the terrorist organisation. There is no point in hiding that. We can see it from the places where he was raised, and from his connections."
Mevlut Mert Altintas shouted 'don't forget Aleppo' after killing Ambassador Andrei Karlov at an art gallery on Monday – before he was himself shot dead.
Profile: the off-duty cop who shot a Russian ambassador https://t.co/39ZN5Gvzh2pic.twitter.com/NDSjUi9dVQ

— euronews (@euronews) December 21, 2016
Gülen, who lives in the United States, said in a video statement he condemned the murder and had nothing to do with it.
"Since Russia, who takes this incident most seriously, denies those claims, it is not possible for the Turkish government to convince the world with such accusations," he said.
Ankara has already accused Gülen of trying to destabilise Turkey and masterminding a failed coup in July.
Russia has said it was too early to draw any conclusions on the murder of its envoy.