Profile: the off-duty cop who shot a Russian ambassador
Comments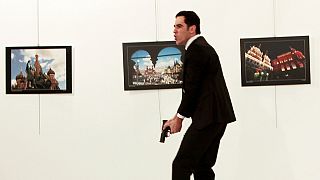 The picture of off-duty cop Mevlut Mert Altintas standing calmly behind his soon-to-be murder victim has chilled as much as it has shocked.
His smart demeanour is another pointer to a cold professionalism surrounding the slaying of Russian ambassador Andrey Karlov.
The actions of Altintas, 22, were seemingly carefully planned.
Chilling photo. Russian ambassador Andrey Karlov with the gunman, police officer Mevlut Mert Altıntas behind him before he was shot. pic.twitter.com/3e4MBah1hj

— Sara Firth (@Sara__Firth) December 20, 2016
Sources close to the murder venue – the Ankara Centre for Contemporary Art – say he had been spotted at the exhibition's opening night on Friday, where he was thought to be on a reconnaissance mission.
The night before the murder, Altintas, who had been in Ankara's riot police division for two-and-half-years, stayed in a hotel close to the gallery.
On the morning of the assassination he called in sick, telling his employers he would bring a sick note on his return.
Altintas, who lived in a shared flat in the Demetevler neighbourhood on Ankara's outskirts, then walked to the gallery.
He showed his police identification, allowing him to bypass security and bring a gun into the venue.
Footage shows him dressed smartly in a black suit, necktie and white shirt, hovering in the background behind Karlov, as he gave his speech.
He stands around ten metres behind Karlov, before calmly strolling off to the left, occasionally glancing at his jacket's inside pocket.
Seconds later he pulled out his weapon and shot Karlov nine times. He was later killed after Turkish special forces stormed the building.
Investigators are looking into whether Altintas had links to US-based Muslim cleric Fethullah Gulen, who Ankara blames for the failed coup in July.
But the slogans he shouted suggested he was aligned to a radical Islamist ideology, reported Reuters.
Jabhat Fatah al-Sham, formerly al-Nusra Front, published a letter saying Altintas was one of its fighters.
Altintas is from a small town called Söke, on Turkey's Aegean coast, where his parents still live.
His mother, father, sister and two other relatives, as well as his Ankara flatmate, have been detained for questioning by police.
BREAKING: The assailant is identified as Mevlüt Mert Altıntaş who is a police officer from Ankara. pic.twitter.com/UeIrgCMs57

— Turkey Untold (@TurkeyUntold) December 19, 2016