Rohingya fighters in Myanmar linked to Saudi Arabia and Pakistan reports ICG
Comments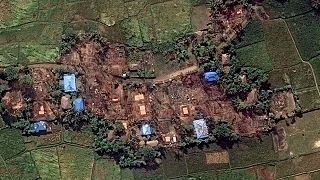 The International Crisis Group, hardly your average NGO when you look at the composition of its board has claimed it has interviewed members of the Harakah al-Yakin militant Rohingya group.
It claimed responsibility for co-ordinated attacks in October in northern Myanmar that killed nine police officers, in turn triggering an army crackdown that has since claimed the lives of at least 86 people. Twenty-seven thousand people have fled over the border to Bangladesh.
Burma: Military Burned #Rohingya Villages in Rakhine State | Witnesses and Satellite Imagery Reveal Pattern https://t.co/EBUxDNAWs9pic.twitter.com/WaROgmqEEn

— Human Rights Watch (@hrw) December 13, 2016
The Brussels-based ICG says it talked to a group inside Rakhine state, and two individuals outside the country, who say Harakah al-Yakin, or The Faith Movement, has leaders with links to Saudi Arabia and Pakistan.
Afghan and Pakistani fighters had secretly trained groups of villagers in northern Myanmar
since before 2014, along with Rohingya who had fought in other conflicts, according to the ICG.
Meanwhile, there's another genocide taking place. #rohingyapic.twitter.com/27Tklm4dRI

— CJ Werleman (@cjwerleman) December 13, 2016
Karachi-born to a Rohingya father Ata Ullah leads the HaY. He spent his childhood in Mecca, where there is a headquarters and separate 20-strong Rohingya emigrees HaY oversight committee.
However the NGO notes that Ata Ullah's statements so far have been limited to ending persecution of the Rohingya and obtaining citizenship rights for the mostly stateless people, who have ebbed and flowed over the border of predominantly-Buddhist Myanmar over generations. It has also avoided attacking the local Buddhist civilians, and limited its targets to authority assets.
4 days after border attacks, #Myanmar postponed planned bilaterial talks w/ #Bangladesh on border security: Reuters</a> <a href="https://t.co/JvTkpHqm3C">https://t.co/JvTkpHqm3C</a></p>&mdash; Eli Meixler (elimeixler) December 14, 2016
The last major flareup in the region was in 2012 when more than 100 people died and 140,000 Rohingya fled into Bangladesh when Buddhists went on the rampage, but relations between the two groups have often been distant and there are chronic underlying problems of poverty and repression of the Muslim minority.
Nobel peace-prize winning government leader Aung San Suu Kyi calls Harakah al-Yakin "terrorists", but she has been notably cool on the plight of the Rohingyas and has questioned the legitimacy of their claims to citizenship, despite some having lived in the country for centuries.