Somalia: deadly blast near Mogadishu port kills dozens
Comments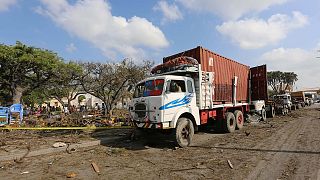 A huge suicide car bomb in Somalia's capital Mogadishu has killed at least 29 people, police say.
Dozens of others were also reportedly injured in the blast, which took place next to one of the city's biggest ports.
The militant group Al Shabab has said it was behind the deadly attack.
The explosion was apparently so big it could be heard across the entire city.
"I came out of the sea port and sat down next to a shop just in front of it and then there was a huge blast from inside the kiosk near the police station. I was very shocked and lay on the ground. I have got a slight injury to my head,'' one eyewitness said.
The latest attack comes as Somalia holds parliamentary elections across the country over several weeks.
Al Shabab's insurgency aims to drive out African Union peacekeepers and topple Somalia's western-backed government.
The group wants to impose a strict version of Islam on the Horn of Africa state.