European Film Awards to honour best in cinema
Comments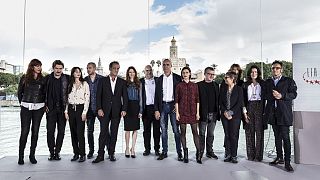 The final countdown is on to Saturday's European Film Awards, hosted this time in the Polish city of Wroclaw, the European Capital of Culture.
French novelist, screenwriter and actor Jean-Claude Carriere already knows he will be honoured.
The 85-year-old, whose work spans half a century, will pick up the Lifetime Achievement award.
"You have the impression your life is over, with the term 'lifetime achievement.' There's the connotation of something coming to an end. That's worrying," Carriere told Euronews.
"Of course I'm happy, but it has to be a great day because I need to be cheered up again."
"Toni Erdmann," from director Maren Ade, has six nominations at this year's awards. It is an uncoventional drama comedy about a father-daughter relationship.
Euronews' Wolfgang Spindler reported from Wroclaw: "With her movie (Toni Erdmann), the relatively young film director Maren Ade has to challenge long established film directors like Ken Loach, Pedro Almodovar and Paul Verhoeven – who are considered to be amongst the best of world cinema.
"We wait with suspense to see which generation will win most recognition."
For a full list of categories and nominations, clickhere