Singapore on top as Asian countries dominate PISA global education survey
Comments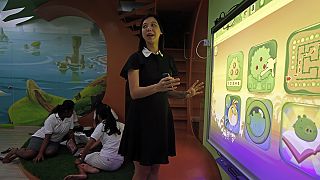 Asian education systems have come out on top in the OECD's latest PISA global survey. Singapore placed first in the three-yearly report, with Hong Kong, Japan and Vietnam all performing well.
The programme tests 15 year-olds from 72 countries in maths, reading and science.
So why do Asian countries continue to dominate?
Euronews' Charlotte Cullen asked Gabriela Ramos, Chief of Staff for the OECD.
"It's a combination of factors," said Ramos. "I think most importantly that they establish very high ambition in terms of what the students can make. They focus their resources and the efforts not only of the school but also the families, investing in high quality education. And most importantly they invest a lot in their teachers."
But the OECD report suggests countries aren't making the most of advances in technology to improve education.
"This is a call, of course, to the education systems to take advantage of all of these technologies and all of these impressive advances in science to try to improve the teaching of science," Ramos told euronews. "And also to try to convey not only the messages, or to learn or transmit the knowledge related to scientific thinking, but also to develop the mindset of kids to become scientists themselves."
Estonia, Finland and Ireland were Europe's highest performers and the only non-Asian nations to reach the top-five in any of the categories.
The results suggest the UK has made little progress in the international rankings.