Finland and Estonia top of the class in EU for education
Comments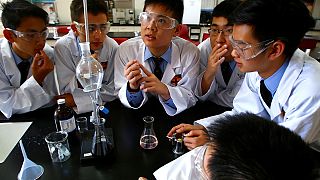 Finland and Estonia are among the best countries in the EU for education, according to new rankings by the OECD.
Singapore was rated the global leader in the PISA tests, a benchmark for comparing 15-year-old's skills in key areas like science, mathematics and reading.
Estonia was the EU's best for science, at number three in the overall rankings, behind Japan and
Singapore which topped the table. Finland came in at fifth place.
The Programme for International Student Assessment is "an international survey which aims to evaluate education systems worldwide by testing the skills and knowledge of 15-year-old students".
The exercise is carried out every three years to determine trends. The newly-released survey brings together data from 2015 when over half a million students in 72 countries and economies were tested.
Estonia and Finland are also among the EU's top five countries for mathematics, alongside The Netherlands, Denmark and Slovenia.
Here too, though, they lag behind Japan, China and notably Singapore, which again tops the list.
For reading, Finland was the EU's best, at fourth place in the table, followed by Ireland and Estonia.
No prizes for guessing who came out on top. Yes, Singapore did it again!
Watch replay: global presentation of
PISA

results

Elsewhere in the PISA rankings:
Montenegro recorded the highest truancy rate of the countries assessed, with 59.6 percent of students admitting they had skipped school in the two weeks prior to the

PISA

test. Italy had the second highest rate with 55.2 percent
PISA

has consistently found that, across all countries and economies, girls outperform boys in reading. However, between 2009 and 2015, the gap narrowed by 12 points on average, a result of boys improving and girls deteriorating.
Boys tend to score higher than girls in mathematics, but in nine countries and economies, girls outperform boys, including Finland, Albania and Georgia.
Explore the data:
PISA

results 2015

Click on the arrows to the right of the logos to explore the data.
Could do Better
The PISA survey is produced by the OECD (Organisation for Economic Co-operation and Development). And not all of the findings are to its liking.
"A decade of scientific breakthroughs has failed to translate into breakthroughs in science performance in schools," said OECD Secretary-General Angel Gurría, launching the report in London.
The body reports that: "While spending per student in primary and secondary education increased by almost 20% since 2006 in OECD countries alone, only 12 of the 72 countries and economies assessed in PISA have seen their science performance improve over this period."
Despite a 20% increase in spending per student, only 12 countries improved #science performance in #OECDPISA, see https://t.co/UCiVNcCxANpic.twitter.com/WaH15Ckfvv

— OECD (@OECD) 6 décembre 2016
For Gurría, reflecting on a time of "rising inequalities", the stakes are high.
"High-quality education is the single greatest tool for empowering people and improving their opportunities and outcomes," he said.
Achieving greater equity in education is not only a social justice imperative, it also fuels economic growth @A_Gurria#OECDPISA#SDG4pic.twitter.com/bEuW4pX3q2

— OECD Education (@OECDEduSkills) 6 décembre 2016
The survey also finds that: "Poorer students are 3 times more likely to be low performers than wealthier students, and immigrant students are more than twice as likely as non-immigrants to be low achievers."
For EU Education Commissioner Tibor Navracsics that is also cause for concern.
#OECDPISA shows: social backgrounds still has large role in determining outcomes. #Education systems need to cater to all #young people

— Tibor Navracsics (@TNavracsicsEU) 6 décembre 2016