Father jailed for life over toddler son's hot car death
Comments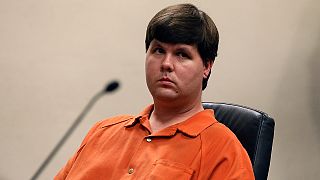 A father has been jailed for life for intentionally leaving his toddler son to die inside a sweltering sports-utility vehicle (SUV).
Justin Ross Harris, 35, was sentenced on Monday after a jury found him guilty of felony murder and child cruelty.
Cooper, his 22-month-old son, died in June 2014 in a car park outside Harris' office in Atlanta, Georgia, USA.
He had been left in the vehicle for seven hours, Harris' trial heard.
Prosecutors had argued he left the child to die so he could enjoy a child-free lifestyle and pursue other women, including teenagers and prostitutes.
Phone and internet records showed Harris was sending explicit messages for much of the day while his son was dying inside the hot car.
Defence lawyers countered that the death was accidental, saying Harris was a flawed man who simply forgot his son was in the car. They left court without comment after the sentencing, but say they will appeal the conviction.
Vic Reynolds, the Cobb County district attorney, told reporters that his office gets no joy from winning the case, but that they have found "justice for Cooper Harris".