Quake rocks northern Japan and triggers tsunami warings
Comments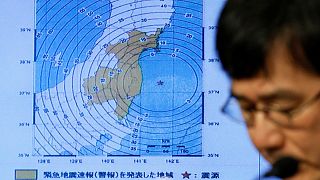 A powerful earthquake has rocked northern Japan sparking tsunami warnings with thousands told to evacuate to higher ground.
The earthquake which was felt in Tokyo, had a magnitude of 7.4 and was centred off the coast of Fukushima prefecture.
Waves of up to 1.4 metres were triggered in the region with smaller ones hitting ports elsewhere. None are said to have breached tidal barriers.
No deaths or serious injuries have been reported.
Fukushima was the same region which was devastated by a massive quake and tsunami in 2011 killing over 22,000 people. The March 11, 2011, quake was magnitude 9, the strongest quake in Japan on record. The massive tsunami it triggered caused the world's worst nuclear crisis since Chernobyl a quarter of a century earlier.
Tuesday's quake temporarily halted the cooling system at the Fukushima nuclear plant. Although all its reactors have been shut down since the 2011 disaster, cooling is still needed for fuel stored on the site.
Tokyo Electric Power (TEPCO) has checked the Fukushima plant for damage from the latest quake.
#Fukushima Daiichi and Daini Units – no abnormalities found, no radiation level changes detected, no injuries reported after the earthquake

—

TEPCO

(@TEPCO_English) November 22, 2016
Television footage showed ships moving out to sea from Fukushima harbours as soon as the tsunami siren was signalled.
Although sea levels may fluctuate in the area for several hours the tsunami threat is thought to have largely passed.
Tsunami waves in river Fukushima Japan by Earthquake !

'First video of tsunami arriving' pic.twitter.com/sDljacTQUe

— Nebeel Khan (@hyp3rfr3ak) November 22, 2016