'Gun' shouted, but no weapon found: Donald Trump is rushed off stage in Reno
Comments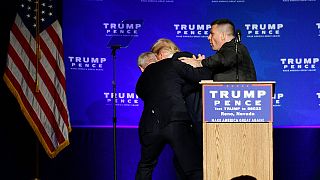 A day of drama on the Republican campaign trail saw Donald Trump rushed off stage in Reno after a threat was perceived in the crowd.
Let's prove that love trumps hate.

Democratic presidential candidate
The US presidential candidate returned to the Nevada rally – seemingly unruffled – a short while later to finish his speech.
He thanked the Secret Service and told the crowd:
"Nobody said it was going to be easy for us. But we will never be stopped. Never ever be stopped."
Security agents could later be seen escorting somebody from the hall.
The Secret Service said the incident began when someone shouted "gun," but no weapon was found. It released the following statement:
"Immediately in front of the stage, an unidentified individual shouted 'gun.' Secret Service agents and Reno Police Officers immediately apprehended the subject. Upon a thorough search of the subject and the surrounding area, no weapon was found.
"A thorough investigation is ongoing at this time."
A close-run race
The contest between Trump and his Democratic rival, Hillary Clinton, appears to be tight, although opinion polls suggest she is still ahead in key states.
"Stand up for what you believe. Know the power of your own voice, it can change the world. Let's prove that love trumps hate," she told the crowd.
Clinton appeared to pay no heed to Trump's earlier jibes about needing celebrities to attract supporters to her campaign events. Katy Perry sang at her Philadelphia rally.