A baby and Beyonce - the last days of US presidential election campaigning
Comments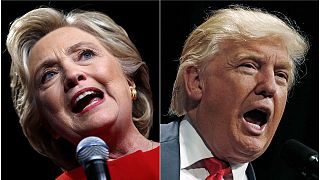 With the finish line in sight, Donald Trump is pulling out all the stops in his presidential election campaigning.
And it seems Republican supporters start young in Tampa, in Florida, where he has been taking to the stage.
"Oh look, a future construction worker, a baby, so cute, give me that," Trump said, as he spotted a baby nearby.
But behind the smiles and photo opportunities, Trump's path to election victory remains narrow – in spite of a close race in national polling.
His campaign – which has divided the Republican Party – is looking to make up for losses among suburban voters.
Trump said he did not need stars to fill his venues, as rival Hillary Clinton appeared on stage with Beyonce and her rapper husband Jay Z in Cleveland.
The Democrat's campaign has hosted a number of free concerts, designed to drum up enthusiasm.
That could play well with the young and minority voters who Clinton needs on side to shore up her presidential campaign – with just days to go until the big election.