US election: Clinton and Trump fight for key battleground states
Comments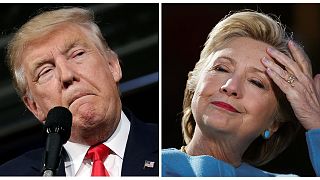 A late push for the swing states took Democratic presidential hopeful Hillary Clinton to Pennsylvania, Michigan and Ohio, with just three days to go before the US election.
Her Republican rival Donald Trump, meanwhile, was in New Hampshire as well as Ohio and Pennsylvania.
A recent Real Clear Politics opinion poll puts Trump ahead in the key battleground of Ohio, while Clinton seemingly has the edge in Pennsylvania.
"I want to be a president who helps everybody fulfill their God-given potential," said Clinton. "And I can't do that unless on Tuesday we decide what kind of country we want to be. Will we reject a dark and divisive vision for our future?"
For each candidate, it seemed, attack was once again the preferred way of getting the message across.
Trump took a dig at Clinton for bringing celebrities to her campaign events.
"I hear we set a new record for this building," he told those assembled at Giant Center, in Hershey.
"And by the way, I didn't have to bring J-Lo or Jay-Z, the only way she gets anybody. I'm here all by myself. I'm here all by myself."
Empty seats in the upper deck behind him appeared to contradict his claim to have set the arena's record for the biggest number of spectators.
But the only turnout that will really matter to both candidates will be the one on November 8.