Bad news for Zuma as corruption watchdog recommends official inquiry
Comments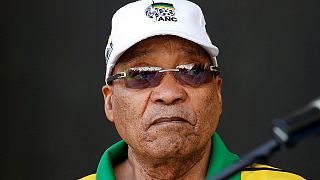 A further blow has been dealt to the embattled South African President.
A report by an anti-corruption watchdog is recommending a commission of inquiry be set up within 30 days to probe claims of influence peddling in government.
The release of the report came after Jacob Zuma lifted a court application to try to block its publication.
The Nelson Mandela Foundation this week also called for the sacking of Zuma; the ruling ANC Party says it is studying the new report.
Fana Mokoena, a spokesperson for the Economic Freedom Fighters group, told reporters: "He is under siege now even from his own quarters. The ANC (the ruling party the African National Congress) is speaking out loud against him and society.
"I think, has come to realise that we have come to the end of the road for him."
The release of the report came as thousands of protesters marched towards Zuma's offices in Pretoria and called for him to resign.
Some commentators say the new development could lead to the biggest crisis yet for the Zuma presidency.