Democrats unite in anger against FBI chief
Comments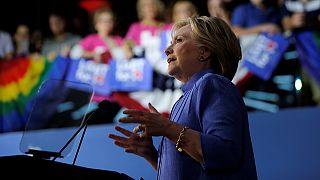 Leading Democratic Party figures and Hillary Clinton's top aids have lambasted the FBI's Director for revealing the bureau's new inquiry into her email use.
Reacting to James Comey's letter notifying Congress of the review, one said the letter had been "long on innuendo and short on facts", while another said the FBI chief may have even broken the law by disclosing the probe so close to the November 8 election.
Democratic vice-president nominee Tim Kaine led the criticism of Comey who had ignored Justice Department advice:
"Now this is an unprecedented move as your folks were describing earlier because it happens close to an election, which is in violation of normal Justice Department protocol and it involves talking about an ongoing investigation, which also violates the protocol and as far as we know now, Director Comey knows nothing about the content of these emails."
FBI Director Comey owes the American people an explanation. Five things you need to know: https://t.co/PrStSB1207

— Hillary Clinton (@HillaryClinton) October 30, 2016
Sources close to the investigation have said the latest emails were discovered as part of a separate probe of former Democratic U.S. Representative Anthony Weiner, the estranged husband of Clinton aide Huma Abedin.
Weiner is the target of an FBI investigation into illicit text messages he is alleged to have sent to a 15-year-old girl in North Carolina.
The Republican camp meanwhile is reveling in the disclosure. They have praised Comey for his decision and claim that attempts to keep the probe quiet was again evidence of a "rigged system".
"Now it's reported that the Department of Justice is fighting the FBI, that's because the Department of Justice is trying so hard to protect Hillary Clinton. They didn't try to protect our generals. They didn't try to protect a lot of other people," said Republican presidential candidate Donald Trump at a campaign rally in Nevada.
Wow, Twitter, Google and Facebook are burying the FBI criminal investigation of Clinton. Very dishonest media!

— Donald J. Trump (@realDonaldTrump) October 30, 2016
Clinton had opened up a significant lead over Trump in opinion polls before the letter surfaced. Analysts are now wondering if the Republican presidential candidate is on the verge of pulling off a Brexit-style upset.