Italy's Renzi vows to rebuild on visit to quake hit town
Comments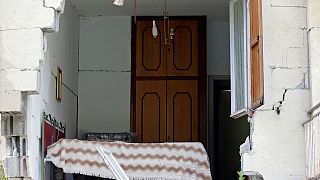 Italy is stronger than any earthquake, Prime Minister Matteo Renzi has declared, on a visit to Camerino, one of the town's hit by two earthquakes on Wednesday in the centre of the country.
Meeting officials and emergency workers, the Italian leader pledged that the thousands of people left homeless by the disaster would not have to live in tents during the winter.
"Italy is wounded but will not be bowed. It's impossible to imagine living in a tent during the winter. Our real goal is not even to set up a tent city, we will see in the coming days how we need to proceed," Renzi said.
Rome has set aside 40 million euros for immediate costs related to the tremors, vowing to rebuild the affected areas.
But some residents fear the government will fail to deliver on its promises, just like in previous earthquake disasters such as L'Aquila.
"I am not moving from here, that is for certain. My home is here, somehow I will organise myself, either with or without the government," one local resident said.
While rescue crews continue to search the rubble, nobody is thought have been killed by the two earthquakes on Wednesday evening, something Italy's Interior Minister Angelino Alfano described as ''miraculous''
The first earthquake, measuring 5.4 on the Richter scale, struck near Visso in central Macerata province, followed by a larger 6.1 magnitude tremor 2 hours later.