New tremors in Italy linked to devastating summer quake
Comments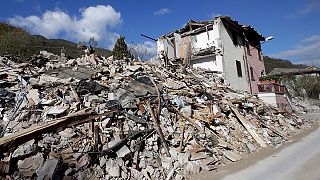 A four-storey red brick building was one of the only structures left standing in the historical part of Amatrice. It stood as a link to the past in a town destroyed by August's earthquake.
And now it has been reduced to rubble, after two strong tremors rocked central Italy on Wednesday.
The country lies across several fault lines, and aftershocks from the summer quake had been expected.
"The shocks that occurred last night are linked to the tremor of August 24," explained Lucia Margheriti, seismologist, INGV (National Institute of Geophysics and Vulcanology). "The first was in part of an area that was already activated in the last few days. But the quake of magnitude 5.9 moved a little further north, where already there were some replicas but it activated part of a new fault, so it is a fault linked to the August quake, but it did not have the same structure".
Experts warned residents to prepare for further aftershocks in the months and years to come. Meanwhile researchers are studying ground movements which could provide valuable insights into how to guide the emergency response to future disasters.