Serious damage from Italy earthquakes
Comments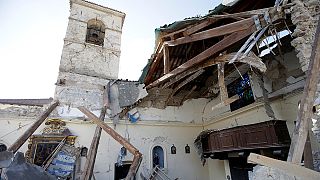 Central Italy is counting the cost after it was again rocked by strong earthquakes, just two months after a quake claimed nearly 300 lives.
I can't shake off the fear

Local resident
Wednesday night's twin tremors, two hours apart, are not being blamed directly for any deaths. But a number of mostly minor injuries were reported.
Many residents of Campi, a town of about 200, slept in their cars as aftershocks rocked the Umbria, Marche and Lazio regions throughout the night.
"I can't shake off the fear," said Mauro Viola, 64, who said he had not slept and had spent the night outside.
Police had blocked off the road to his home with a park bench, and Viola said a chapel beyond his house had collapsed.
Hundreds flee new earthquakes in Italy https://t.co/KtOPP4SveIpic.twitter.com/0ZloanIGhK

— AFP news agency (@AFP) 27 octobre 2016
Euronews spoke to Giuliano Pazzaglini, Mayor of the village of Visso, at the centre of the quake zone.
"We have focussed on people's fundamental needs – food, water, toilets," he said.
"We are organising two temporary kitchens but this evening there will be a problem as to where people will sleep. If we can't do any better, we will put up tents. We have started checking the destruction which is significant because the main administrative centre of the area was very heavily damaged as well as the neighbouring communities."
Italian news agency Ansa reported that Pope Francis had expressed his solidarity.
Pope 'close' to people hit by new quakes - Francis used papal twitter account to express solidarity https://t.co/OOJzEwZEh6

— Ansa English News (@ansa_english) 27 octobre 2016
The earthquakes – measured at 5.5 and 6.1 magnitude – were followed by aftershocks.
Authorities say the fact that the first tremor was weaker than the second probably saved lives as most people had already left their homes.
"Last night after the quake, there was a power cut and a storm with heavy rain," said Mauro Camilloni of the Civil Protection Agency.
"We tried to organise ourselves so as to all assemble in one square. We had to go sector by sector to see if anyone was in difficulty. Fortunately, no-one was injured. No one got hurt."
Italian Interior Minister Angelino Alfano said that a decree now being voted on by parliament to pay for the immediate costs of the August tremor could be extended to cover the latest series of quakes.