Families flee Mosul fighting as reports of ISIL massacres emerge
Comments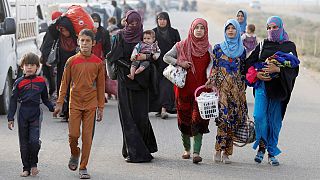 They have fled for their lives to a camp for the displaced – escaping the frontline of the fight for Mosul.
Mohammed Ismail Khalil and his family live in one of the nearby villages that has been turned into a battleground between the Kurdish Peshmerga and the so-called Islamic State.
He says the jihadists ordered him to leave his village of Chanchi, as the two sides clashed.
"Finally there was gunfire between them," he said.
"We thought we had to run to the army whether we got killed or not, we had to make a run for it. And we finally got to the Peshmerga and narrowly missed an explosive that went off next to us."
Amid new reports that ISIL has massacred scores of people around its Mosul stronghold over the past week, his wife, Umm Hameed, is relieved to be safe.
"We are good here," she said.
"They gave us blankets and bedding but we really need water. We need to have water for washing and more food. There isn't any bread. We need people to bring us bread."
The family in staying in the new Zelikan camp in Bardarash, northeast of Mosul.
It is one of a number of camps receiving a vast exodus of people fleeing the fighting.
Majid Mohammed,69, arrives safely at UNHCR's new Zelikan camp for IDP's in the KR-I.https://t.co/GNn8NlyRcbpic.twitter.com/hbk11Ub1uW

— UNHCR Iraq (@UNHCRIraq) 24 octobre 2016
UNHCR supports Thahir and his family with tents, mattresses at the #Zelikan IDP camp in KRI #Iraqpic.twitter.com/PwYdYZTg2p

— UNHCR Iraq (@UNHCRIraq) 25 octobre 2016
The United Nations believes that in a worst case scenario, one million people could be displaced.
Over 3 million people, nearly a tenth of the population, are already internally displaced in Iraq.
WFP teams are in #Iraq & ready to provide immediate food aid to families fleeing #Mosul. #MosulAid → https://t.co/Qwo5F1V05I@WFP_MENApic.twitter.com/19L3LKelWg

— World Food Programme (@WFP) 25 octobre 2016